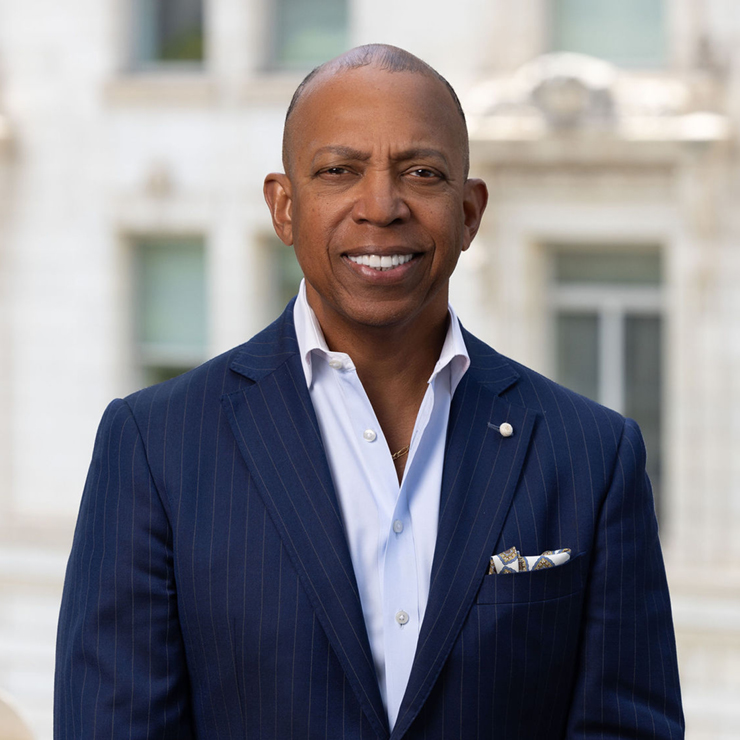 Lynt Johnson, MD, Associate Partner | Co-Lead U.S. Health and Life Sciences
Lynt B. Johnson, MD, MBA co-leads GRAPH's U.S. Health and Life Sciences practice.
Lynt brings to GRAPH a deep understanding of business in the context of healthcare therapies and clinician, department and enterprise decision making and purchasing. Lynt brings to GRAPH a unique combination of a hugely successful career in clinical care, hospital leadership and administration, with corporate finance analysis and life science investing - and these collective experiences accrue to provide tremendous benefit to our client assignments.
Lynt is extremely accomplished – as a surgeon, as a hospital administrator, and as a life sciences healthcare investor; Lynt brings a 28-year experience in hospital leadership and integrated physician practices. Lynt was formerly Chief of Surgery at Georgetown University Hospital, a 5-year member of the Georgetown University Hospital Board of Directors and served on the executive leadership Council to develop the Medstar Integrated Distributive Care Delivery Network for Surgical Services. He also served as the Chairman of Georgetown's Perioperative Value Analysis Committee. In his previous role, Lynt was the Founder of the Georgetown Transplant Institute – one of the first established integrated multidisciplinary care centers responsible for clinical, financial and quality outcomes over an eleven-year period.
Lynt brings to our clients' assignments:
Practical and real-world knowledge of drivers of hospital and physician decision makers for product use and purchasing
Understanding of specific levers and pressure points in healthcare product/devices adoption
Deep technical, regulatory and clinical insight into medical applications and devices
Investing experience in innovative and disruptive medical companies
Administrative and strategic leadership in shaping the growth and seeking economic synergies in Integrated Delivery Network (IDN)
Commercial and Technical Due Diligence experience (as Investment manager at Bravance Healthcare Investors)
Lynt also serves as Professor of Surgery and Executive Director and founder of the Liver and Pancreas Institute for Quality (LPIQ) at George Washington University Hospital, is the founder of Bravance Healthcare, an investment platform focused on biotech companies.
Dr. Johnson is the former Robert J. Coffey Professor of Surgery and Chairman of the Department of Surgery at Georgetown University Hospital.
Lynt has published over 130 scientific articles in the field of liver and pancreas cancer and transplant surgery and is nationally recognized as an expert in hepatobiliary/pancreas surgery with special interests in advanced cancer surgery and minimally invasive techniques. Lynt has been invited as visiting Professor to many prestigious Universities and has delivered over 90 invited lectures.
Lynt received his medical degree from Harvard Medical School and completed his residency at Massachusetts General Hospital- Harvard Medical School followed by a fellowship in transplantation and hepatobiliary surgery at the New England Deaconess-Harvard medical School. Lynt founded the Liver Transplant Program at the University of Maryland in Baltimore in 1993. In 1998 Johnson was recruited to Washington, D.C. where he founded the Georgetown Transplant Institute and Director of Hepatobiliary and Pancreas Surgery. He assumed the position of Chairman of the Department of Surgery in 2009 where he served until joining the faculty at George Washington University Hospital.
Lynt's honors include four time winner of the Faculty Teaching Award, The Abe Pollin – Washington Wizards Community Service Award, The Crystal Teaching Award from the SNMA and the Omega Century Award of Excellence in Science and Medicine. His Board of Director appointments include; Chairman for the National Kidney Foundation, the United Network of Organ Sharing, Georgetown University Hospital, the Society of University Surgeons and the American College of Surgeons.
Lynt is the past President of the Society of Black Academic Surgeons and Chair of the Finance Committee for the American Association for the Study of Liver Diseases, the American Surgical Association and the Southern Surgical Association. Lynt also served as the Secretary for the Harvard Medical School Alumni Council and was inducted as a faculty member of the Alpha Omega Alpha Honor Medical Society.