Tools designed to help the PE firm and M&A team drive more effective commercial diligence
GRAPH is excited to announce the release of its 2019 edition of Diligence | Matters™ - a growing toolkit designed to help active acquirers manage and strategically assess the merits of making an acquisition (or other large commercial investment - e.g., expanding into a new market) with a well-considered, and properly pressure tested commercial diligence exercise.
Diligence Matters™ exists in various formats – including an integrated notebook that you can use from 'cradle to grave' to manage a process, serving as your book of record and a tool to compile findings and ultimately develop the investment committee memorandum.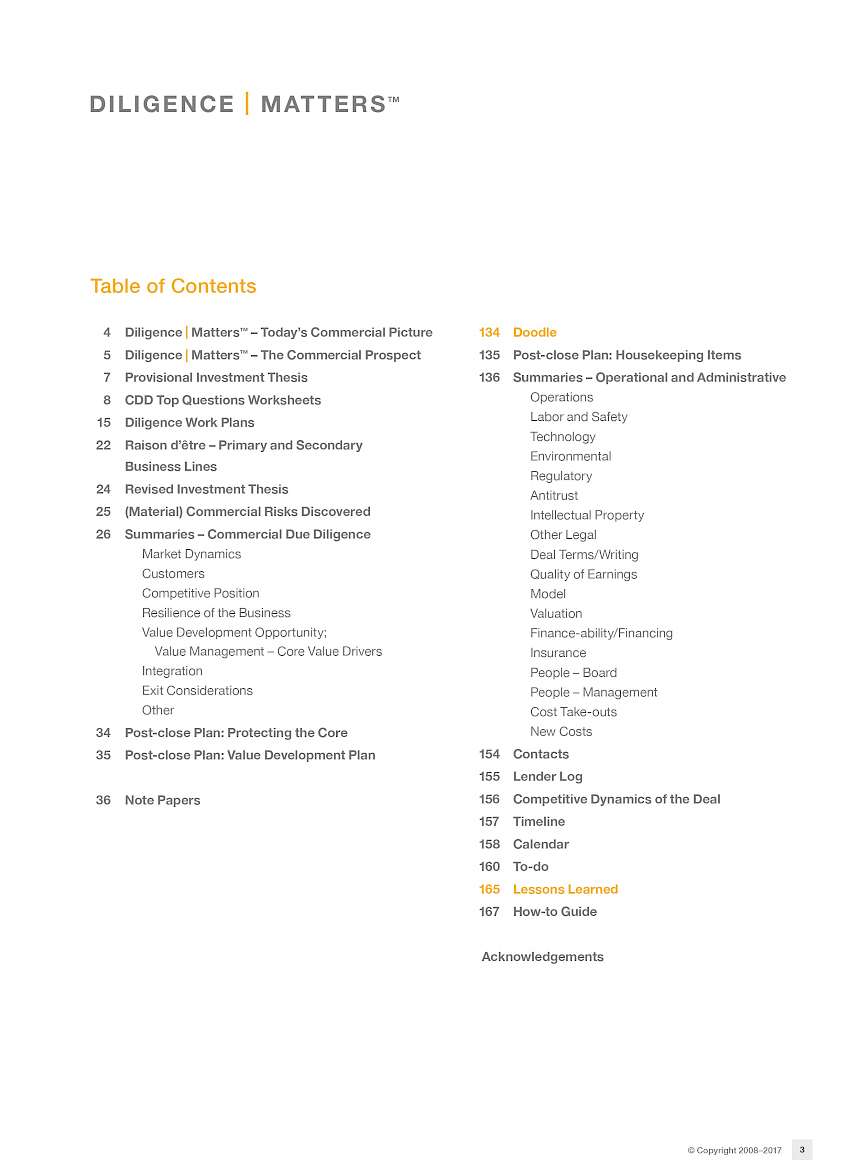 Our hope is that this toolset will help you, and your team, execute better deals, and help make you an even more effective owner of assets.
We designed the Diligence | Matters™ toolkit to assist active acquirers throughout
 the deal process, drawing on our experience of hundreds of commercial due diligence assignments (and from the ideas and feedback of many of our clients). It is far more than a blank book of notepaper: we developed tools and best-practice frameworks that can help you select the themes you tackle in diligence; apply greater rigor in drawing conclusions; and set a plan for value development.
Diligence Matters™ starts with a comprehensive commercial diligence issue list that can be used to prepare for – and stimulate thinking during – your investigations and meetings (e.g., with the members of the target company, with the channel, with customers, with your internal team, etc.). The remainder of the tools are designed to help you build the thesis and set the diligence agenda, recognize patterns and discern the most significant takeaways, organize your activities and track progress, and develop pre- and post-close action plans.

Of course, not everyone will use these tools in the same way. Every team applies its own special sauce – reflecting the philosophy, process, science and art that separates one investor from another. But given the increasingly competitive environment, we are seeing a greater drive toward the application
 of structured, best-practice diligence methods to help materially improve the outcomes and sponsors' success.

We will continue to develop and improve these tools, and will share updated versions regularly. If you have fresh ideas, please reach out to us to continue the conversation.

Each project in Diligence Matters™ begins with a set of five interactions between five development tools:

[MASTER] COMMERCIAL DILIGENCE MATTERS

Today's Commercial Picture

Market Dynamics

Customers

Competitive Position

The Commercial Prospect

Resilience of the Business
Value Development Opportunity
 (and Value Management – Core Value Drivers)
Integration

Exit Considerations

Use these lists of matters to:

Challenge thinking

Stimulate ideas for your investment thesis and for an effective value development plan
Shape the diligence agenda. Determine the issues that matter
Check back at mid- and endpoints to see how the asset stands up against a larger set of fundamentals

---

PROVISIONAL INVESTMENT THESIS

Independent of the CIM, develop individual investment case statements that the team believes explains 
"why do we think we can make money on the deal?"

This Provisional thesis becomes the basis for the entire diligence exercise

---

CDD TOP QUESTIONS WORKSHEET(S)

Develop asset and thesis specific questions for each of the I-VII commercial matters lists that are most important to test (i.e., the matters that matter)

The Top Questions Worksheets help prepare for meetings, and the bottom table ties your questions back to the investment thesis to ensure complete coverage of the thesis

---

DILIGENCE WORK PLAN

Use these pages to develop distinct work streams for each individual investment case statement – and to track results, actions, and revisions to the provisional thesis

---

REVISED INVESTMENT THESIS

As you wrap up testing the individual investment case statements, revise the larger investment thesis based on the new fact base and analysis

Use the Revised thesis as a basis to write up the investment case (with supporting data leveraged from the key findings outlined on the Summary
Notes pages)

The center of the book has 100 pages for day-to-day "field work" notes to collect your diligence findings

The left-hand column includes a summary of the Diligence Matters™ list, helping to ensure that every meeting is intentional and results in valuable findings

Prepare and stimulate:

Leverage the summary list to prepare for a given meeting (e.g., with customers, competitors, channel participants or members of management); and
Use the topics to stimulate thinking in real time during a meeting

Conduct your investigation, and take your notes:

Conduct interviews (with customers and customer prospects, channel partners, company executive and line staff, competitors, market experts, etc.) and
Take your notes

Organize:

When the meeting is over, organize your notes and mark off the topics were covered to help with easy recovery and leverage of insights later on; and/or
Grade the target company relative to key topics and as a result of a given diligence event

Summary notes, a series of pages to record and organize key takeaways from diligence activities

Collect key takeaways on these pages as you go along and then "net out" the findings to prepare for an overall investment analysis (e.g., to support development of the investment committee memorandum)

One set of summary pages is located just before the day-to-day note-taking pages: Raison d'être; Material Commercial Risks Discovered; Commercial Diligence Matters topics I-VII; and summary pages for post-close actions in both Protecting the Core and Value Development 

A second set of summary pages is located just after the day-to-day note-taking pages: Operations issues; Deal terms; QOE issues; the Model and Valuation; Management and the Board; New Costs; and Cost Take-outs
Frameworks for measuring the strength of the diligence findings and the investment thesis
Frameworks for measuring the commercial risks (associated with your diligence findings)
Structure for developing investment committee memorandum

Tools to help organize strategic actions in the course of the deal activities 


Competitive Dynamics of the Deal worksheet

A Contact List

Timeline and Calendar to plan out key activities and milestones
To-dos

Lender Log to track financing discussions 


Last, but not least, we reserved space to:

Recognizing that seeing, and then creating, value is a creative art as much as it is a management science, we provide a special place to highlight and capture this critical aspect of deal-making and value generation

Capture lessons learned - to create ongoing leverage

We included a section to record lessons learned to support the continuous improvement of your commercial due diligence work. Within each deal, you might seek to institutionalize learnings on best practice diligence lessons, business model lessons, deal-making lessons, and market and industry lessons. Continuously refine what works, and eradicate costly errors

If you are interested in getting your hands on a copy of Diligence | Matters™ (or a whole set for your team), just complete this form:

You can also purchase Diligence | Matters™ on Amazon.com - and soon in New York, Washington and London at a local speciality bookstore.