051
The Importance of Product-Market Fit in Commercial Due Diligence
Globalization, digitalization, information access, and an increasingly discerning customer base have been contributing to a business environment that continues to build in competitive intensity year after year. To survive and thrive, companies must demonstrate meaningful growth that outperforms competitors or displaces incumbents. This growth can take the form of enhancement of existing offerings, development of new ones, or both. Regardless of the avenue(s) chosen, identifying the target market and target customer segments are critical first steps that require a strong assessment of product-market fit to realize growth and margin enhancement plans (i.e., two factors that radically improve multiples and therefore returns).
This continuation of diligence goes beyond a transaction and helps inform the post-acquisition growth plans with proper analysis to determine specific value creation opportunities. I want to offer up a four-part evaluative framework that takes into consideration the critical elements that I believe are needed for an organization to successfully deploy its offerings in identified growth markets. To get the most value out of this framework, I recommend scoring your organization against each question outlined and then aggregating the scores into an average figure for each category of the framework. By answering these questions fairly and honestly, you will be able to identify areas of strength alongside areas of vulnerability that require enhancement before confidently embarking on your offering launch.
Four-Part Planning Framework for Product-Market Fit: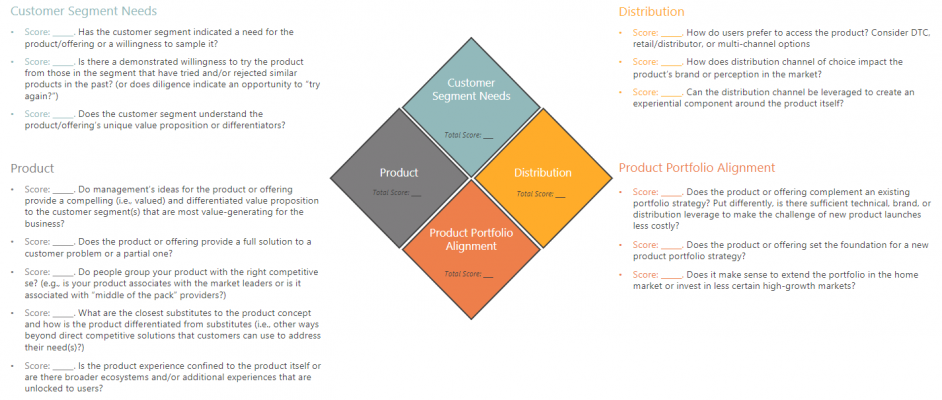 1. Customer Segment Needs
Has the customer segment indicated a need for the product/offering or a willingness to sample it?
Is there a demonstrated willingness to try the product from those in the segment that have tried and/or rejected similar products in the past? (Or does diligence indicate an opportunity to "try again?")
Does the customer segment understand the product/offering's unique value proposition or differentiators?
What adjustments need to be made for the product/offering to be successful in the target segment?
2. Product
Do management's ideas for the product or offering provide a compelling (i.e., valued) and differentiated value proposition to the customer segment(s) that are most value-generating for the business?
Does the product or offering provide a full solution to a customer problem or a partial one?
Do people group your product with the right competitive se? (Is your product associated with the market leaders or is it associated with "middle of the pack" providers?)
What are the closest substitutes to the product concept and how is the product differentiated from substitutes (i.e., other ways beyond direct competitive solutions that customers can use to address their need(s))?

Note: Competing with substitutes can often be easier than competing with competitor products and usually results in redefining the playing field (to your advantage) as to what drives new adoption – typically a bigger lever for growth than share capture

Is the product experience confined to the product itself or are there broader ecosystems and/or additional experiences that are unlocked to users?
3. Distribution
How do users prefer to access the product? Consider DTC, retail/distributor, or multi-channel options.
How does distribution channel of choice impact the product's brand or perception in the market?
Can the distribution channel be leveraged to create an experiential component around the product itself?
4. Product Portfolio Alignment
Does the product or offering complement an existing portfolio strategy? Put differently, is there sufficient technical, brand, or distribution leverage to make the challenge of new product launches less costly?

Case Example: Apple's evolution into a platform and ecosystem company from a hardware company

Does the product or offering set the foundation for a new product portfolio strategy?

Case Example: Putting aside Peloton's latest challenges, the company truly built a great category with a lot of value and a multitude of strategic exit options. What began in 2012 as a fairly straightforward manifestation of a connected fitness strategy – providing an on-demand cycling experience to a dispersed audience – has since transformed into a comprehensive portfolio looking to be the one-stop shop for customers' fitness needs across a variety of price points. Investors – funds and corporates alike – are naturally taking notice of an opportunity to leverage Peloton's strong portfolio as part of a broader strategy, particularly in a consumer environment that is increasingly focused on health and wellness

Does it make sense to extend the portfolio in the home market or invest in less certain high-growth markets?
These questions are left unanswered because it is up to you/the operating company to determine the answers to these questions, considering broader growth and product strategy. However, when using this framework to align on the appropriate next steps, a primary-research driven approach can be invaluable in obtaining answers to these questions. Leveraging such an approach can ensure market insights are relevant, timely, and representative of the customer segment, rather than relying on diluted and out-of-date secondhand data.
Product-market fit is the key to succeeding in a new growth frontier. Opportunities exist on both inorganic and organic frontiers, but both require careful consideration. Add-ons are certainly expensive but may provide a faster path to growth if executed correctly. Organic opportunities – the more traditional growth path – may present less risk but may also yield lower and/or slower outcomes.
Taking the time to evaluate your product positioning and consider the critical elements can be what makes or breaks your product-market fit success. Gauging management ability, market appetite, and the products currently under development (and their alignment to the existing business plan) are necessary to have conviction in investment decisions.
Copyright © GRAPH Strategy LLC