Healthcare M&A 1H 2023 Review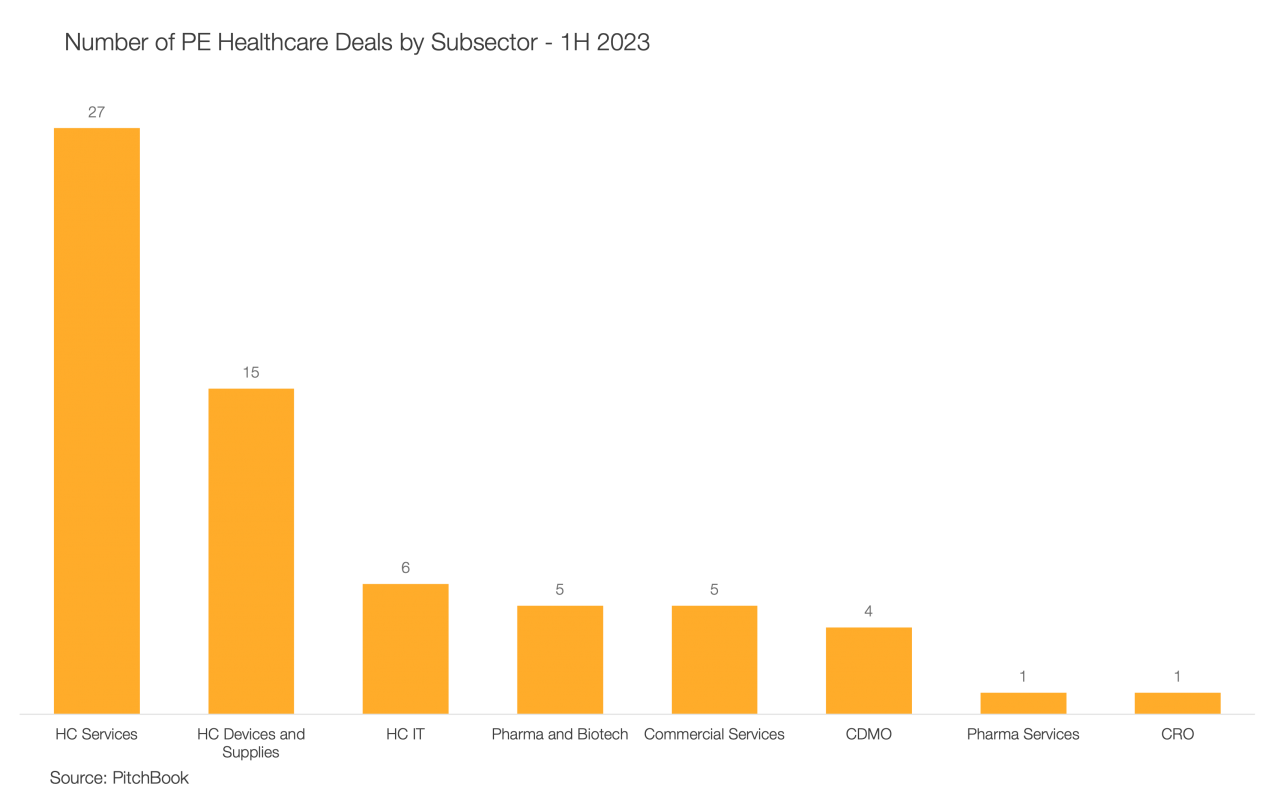 1H 2023 M&A Review - Health and Life Sciences
During the first half of 2023, there were 65 Private Equity (PE) healthcare and life science deals completed globally. * Despite a broader depressed PE deal environment, my review suggests continued PE interest in certain key healthcare subsectors for the first half of 2023. While there was some hesitancy and reconsideration of multiples due to factors such as rising interest rate environment, a healthy number of deals were completed in an attractive healthcare space. The aging U.S. population, the largest consumers of healthcare, along with the resiliency of Healthcare businesses in a challenging economic setting, continue to attract PE.
Three subsectors made up more than 10% of the deal flow during the first half of 2023. Healthcare services, encompassing outpatient clinics and providers, accounted for more than 40% of the overall deal flow. Interest in Healthcare Services spanned many subsectors with no specific dominant theme including Acute Rehabilitation Clinics, Dental Clinics, Behavioral Health, Dermatology, Women's Clinics, Elder Care, Digestive Diseases, and Eye Care.
Outpatient clinics are particularly attractive as insurers can be billed not only for providers' professional services but can also be billed for a facility fee for its use – providing for margin enhancement value gen opportunities in both the gross and operating margins; providing lots to work on to boost returns. Most of the companies were acquired through leveraged buyouts with private financial sponsors. Two examples of the healthcare services deals were OneOncology and United Digestive. OneOncology is a network of community oncologists who are interconnected through a platform that leverages group purchasing, operational optimization, practice growth services, and clinical innovation. It lists 850 cancer care providers and care for approximately 500,000 patients at more than 175 sites of care nationwide. The company offers an analytics program to its members to enhance operational, clinical, and financial practices. In April, TPG and AmerisourceBergen acquired a majority and minority interest in OneOncology from General Atlantic. The physicians and affiliated practices retained a minority interest in the company. The transaction valued OneOncology at $2.1 billion. Similarly, United Digestive is a practice management firm with a partnership of gastroenterology practices. United Digestive offers an integrated suite of services for endoscopic and infusion services that encompass anesthesia, pathology, research trials, as well as gastroenterology. United Digestive has over 200 providers across 80 locations in the Southeastern United States. United Digestive was formed from a partnership between Atlanta Gastroenterology Associates and Frazier Healthcare Partners in December 2018. A leading provider of gastroenterology services throughout the Southeast, United Digestive has partner practices in Georgia, Florida, North Carolina, and South Carolina. The company was acquired by Kohlberg & Company, and Ares Management through a $323.30 million LBO in March 2023.
Another strong area of interest was healthcare devices and supplies. Approximately 20% of deals involved companies producing medical devices, technologies, and support products. Most companies provided in-house manufacturing capabilities, many of which manufactured multispecialty products in their product portfolio. Medit and Estron were two deals completed in the first half of 2023. Medit, a digital dental solutions provider headquartered in Seoul, South Korea, is one of the world's largest makers of 3D dental scanners. The company develops and manufactures three-dimensional dental scanners globally for clinics and labs. The company specializes in measurement and computer-aided design and computer-aided manufacturing solutions, including intraoral scanners as well as platform solutions. In February, MBK Partners, a Private Equity firm focused on investments in Asia, acquired Medit Corp for $2 billion. Estron, headquartered in Denmark, is the leading developer and manufacturer of miniature components for hearing aids. It specializes in the design and production of ultra-fine litz wires, detachable cables, and connector solutions. The company's products are also used in audio, security, and communication devices. The company was acquired by Erhvervsinvest Management through an LBO completed in February 2023, for an undisclosed amount.
Healthcare Information Technology (HCIT) accounted for a significant share of healthcare-related deals in the period. Ten percent of healthcare deals involved companies bringing new technologies to the healthcare ecosystem. Logex Group, a provider of advanced data analytics to enhance clinical and operational practice performance, exemplifies a classic HCIT deal. The company turns data into actionable insights and allows for analysis of financial performance and management information, promising to help clients make better decisions and deliver optimum health outcomes for patients while reducing costs. The company was acquired by Thoma Bravo through an LBO completed in March 2023, for an undisclosed amount.
A smaller number of deals were consummated in pharmaceuticals and biotech, pharma services, contract development and manufacturing organizations (CDMO), contract research organizations (CRO), and commercial services. Despite the lower number of deals, we believe that these subsectors still remain attractive acquisition targets for PE firms and most likely are a consequence of a small sampling interval rather than a general shift away from these businesses.
GRAPH's Going Forward View
I continue to see healthcare providers and services as prime PE investments. U.S. demographics and long-term growth trends suggest continued interest in the space in a turbulent market environment. The U.S. consumes a large financial proportion of global healthcare; thus, the country remains at the epicenter of most healthcare businesses. Supplying financial and operational technology to disjointed practices along with efficient management and stronger payer contracts enhances the core values of provider-led practices and can lead to attractive returns to PE funds. The shift to healthcare consumerism will also benefit companies with interfacing technology between providers and patients. Patient empowerment to access, choose, and navigate their health needs will offer a retail-style healthcare consumption rather than the prior doctor-to-doctor referral with very little patient involvement. I also anticipate services to biopharma and life sciences to be attractive PE targets. The intersection of genomics, technology, and novel therapeutics, such as cell and gene therapy, has garnered significant interest as an area of accelerated growth over the next 10 years.
---
*PitchBook